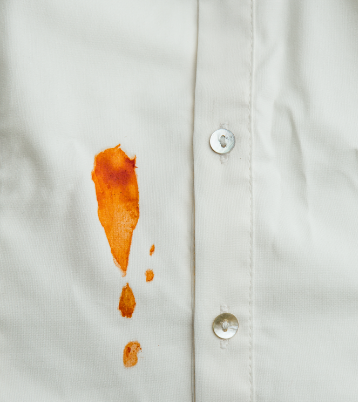 Stain Removal
How to remove paint from clothes
How does it feels when you get a new shirt and accidentally you sit on a bench which was painted fresh with green paint which spoils your white shirt with green stains. Your efforts of buying a shirt, spending money on it, and above all wearing it with full excitement will go in vain because of just one stain. Now the question is how will you remove the stain? Will you follow the homemade tricks or will you leave it to the professionals.
You should always choose the latter because no-one can do the way a professional does. Since there are different kind of paints which can or cannot be removed sometimes, so the homemade tricks can also damage the fabric and will ruin your favorite shirt. Let's have a look at why you should always rely on professionals for such things and in what ways MyCleaners can help you with their services.
Why should one rely on MyCleaners
Using your homemade tricks can damage the cloth by losing the color and making the texture rough, but with MyCleaners, these things can be avoided and your clothes will be washed with extra services and will be returned at your doorstep within no time. You just have to download the app on your smartphone and MyCleaners is just a few steps away from your services.
MyCleaners is a professional cleaning service that caters from the personal wardrobe to different household products. cleaners with the state of technology and techniques give you the top quality services, combining the newest in the field with environmentally friendly equipment.
Follow up some easy tricks with MyCleaners
There are two types of paints Water-based and Oil-based and you should know how to distinguish between them. In Water-based the paint dries up quickly but is less resilient while Oil-based paints are always suited for outdoor paintings as they are more durable and perfect for house painting. Let's grab some tricks of how to remove them.
Stains can easily be removed with soap and water until they are fresh.

When the paint is fresh we can easily put detergent and wash it with water but when the paint gets dry, the process might get complicated.

Turpentine: The salt to our soup, this is the only product which can help to remove dry Oil-based paints. This not only removes the stain but also protects from damaging the garment.

We should always remember to wear masks and gloves while using any product since they are toxic and we should always open the window to ventilate the room in which you are cleaning.

Coming to the Water-based paints, they are much more easier to remove than the Oil-based ones.

We do not have to use Turpentine or any other toxic solvent to get rid of the stain, just use water and dishwasher detergent, mix equal parts of them in a glass, with a brush gently run and remove the stain.

You need to do this only at the stained part and protect the other parts of the garment as it can damage the whole cloth. For this, use a cloth and kitchen paper and put it under the fabric. Repeat this until the stain disappears completely.

Never put the garment in the washing machine while it is stained as it can damage the whole of it.
If you are unsure of these tips or scared of following these steps on your own, you can always rely on the laundry services-MyCleaners where they will transform your old stained garment into a fresh new and shining cloth with undamaged fabric and without a pungent smell. Since we are busy with our hectic work schedules and loads of responsibilities we don't even have the time to wash our small necessary things, joining hands with MyCleaners will not only help you with laundry but will also provide you with other services.
Just as the others say, leave it in the hands of the professionals, they will do the best for you.