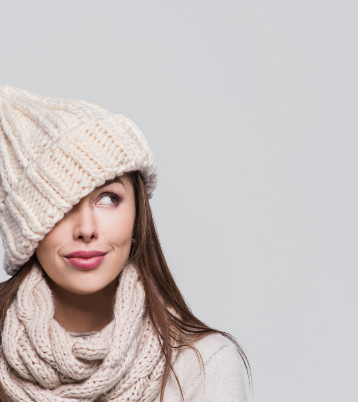 Winter Blues
How does winter wear turns into winter fear
During our childhood days, our mothers used to make us wear those turtle neck warmers, or rather I should call it as skivvies that I used to hate because it used to make me feel chocked and itchy, agree or not? Later on, I gave a thought about it, that it can be either my stubbornness or can be an allergy. Skin allergies are very common due to winter clothes, especially with women because they have very sensitive skin. No matter how expensive the garment is, skin allergies will always prevail. In order to understand about these let's explore some facts down below.
Why skin irritation occurs
Textile Dermatitis is a skin allergy that is caused by color dyes or the fabric. Wool is a common cause of skin infection due to which many people tend to get these allergies. Skin irritation can also occur when the clothing is too tight and chafes against your skin. These allergies tend to occur specifically in the moist areas which have plenty of contact with fabric, such as behind your knees or armpits.
How should you make a decision between clothing for men and women
If you are allergic to such things first you need to familiarize some things about the fabric that whether it is suitable for your skin or not.
Prevent Itching and Irritating with soft cloth
If you want the benefits of wool, search for a soft clothing made of merino- a softer type of wool which is less irritating. It is hard to find wools like this which is according to your skin type but fabric like Merino wool, Alpaca, and cashmere are extremely soft and very warm.
Pick a high performance synthetic
You should always pick up clothes that are more breathable and designed to soak sweat from your body. To prevent your clothes from mystic smell, follow these instructions.
Avoid Chafing
Pay attention to the tags that may irritate your skin type. There are instructions mentioned at every tag so always make sure to check them and follow those instructions.
This article can help you get rid of multiple skin issues related to woolen clothes so make sure to give it a read and work according to it.
Follow-up MyCleaners website for more article like these.